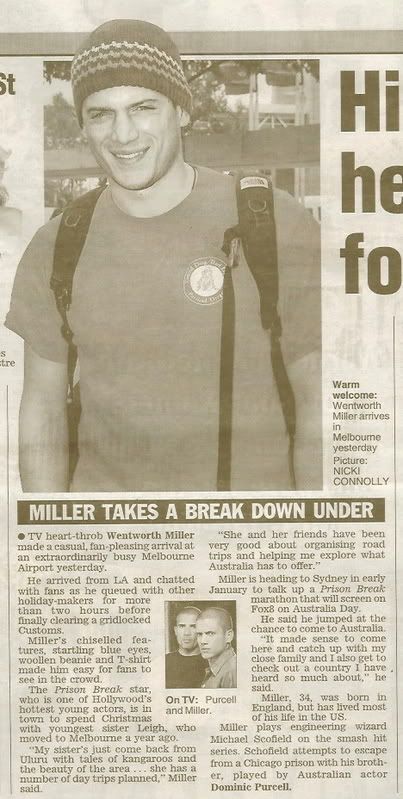 I had to freaking come up for air for this one. I go to sleep and all hell breaks loose. Thanks to
brookeonline
of The Church for scanning this! Wentworth Miller has arrived in Melbourne, Australia. I feel like I'm there! You Lucky Fucking Aussies! And an update on the only part of his schedule that we're sure of from
ozziegirl
:
Prison Break cutie pie Wentworth Miller will be the guest of honour on a harbour cruise on Wednesday to celebrate a long-term deal struck by Foxtel and 20th Century Fox Television Distribution. The cruise will be on board the luxury vessel, the AQA.
Oh boy...We've got color! Thanks
Krissie
for the RED ALERT and
Wendy
for posting it!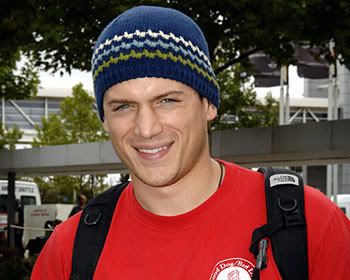 Awww Went! Red for the Holidays! Just for us! You didn't have to do that...but we're glad you did. Cute beanie! Have you been working out?
Here is the article where the pic came from:
TV heart-throb Wentworth Miller made a casual, fan-pleasing arrival at an extraordinarily busy Melbourne Airport yesterday.
He arrived from LA and chatted with fans as he queued with other holiday-makers for more than two hours before finally clearing a gridlocked Customs.

Miller's chiselled features, startling blue eyes, woollen beanie and T-shirt made him easy for fans to see in the crowd.

The Prison Break star, who is one of Hollywood's hottest young actors, is in town to spend Christmas with youngest sister Leigh, who moved to Melbourne a year ago.

"My sister's just come back from Uluru with tales of kangaroos and the beauty of the area . . . she has a number of day trips planned," Miller said.

"She and her friends have been very good about organising road trips and helping me explore what Australia has to offer."

Miller is heading to Sydney in early January to talk up a Prison Break marathon that will screen on Fox8 on Australia Day.

He said he jumped at the chance to come to Australia.

"It made sense to come here and catch up with my close family and I also get to check out a country I have heard so much about," he said.

Miller, 34, was born in England, but has lived most of his life in the US.

Miller plays engineering wizard Michael Scofield on the smash hit series. Schofield attempts to escape from a Chicago prison with his brother, played by Australian actor Dominic Purcell.
source
AHHHHHHHHHHHHHHHHHHHHHH! A Church Member just won the lockdown with Went that is being advertised on Nova 96.9 in Sydney (sponsored by Fox8).

CONGRATULATIONS BG!

I want details! I am so excited (like it's me)! AHHHHHHH!
You all may want to just camp out in Starbucks (be sure to be there at 8 am, he likes that time it seems) as he has been seen there twice in the last two days!
The Second Encounter even included an actual location:
It was the City Square one on Collins, the first on you encounter when you walk down Swanston Street from Flinders Station. I have a feeling he's staying at the Grand Hyatt or the Regent, cuz they're really close to that Starbucks.
If I find out anything else, you'll be the first to know!