Joey has sent me yet another video, this time from Style Magazine.

Holy Shit Went! When did you sleep? You can download it here. It's almost 10 minutes long and oh man is it ever good. This video includes lots of pics (photo shoots and candids) and even clips from The Human Stain, Ghost Whisperer and of course Prison Break. My thoughts:

1. The squeeing is starting to get to me and not in the way that one might think. I am starting to see why Went was so darned happy over there. Did I just say darned?

2. Went gives an undeniable Church shout out. We thought he might have been getting at it in the last interview and he totally was. He says the words Blue Steel. I fucking squeed.

3. He admits his love of hoodies and flip flops. Tee hee!

4. Ever the diplomat, Went likes it when you dress to please yourself, not him. It will show in the way you carry yourself. God I love this man.

5. OK now I JUST said that I was thinking at the end of Sona that they should have thrown Wentworth Miller the ball right? Well there's more of the Bean Pole Jeans photo shoot in here and he is holding a ball.




At one point he even starts throwing it up in the air and catching it and that is not even the best part. LOOK. AT. THAT. SHIRT. It's sleeveless! *biting fist* LOOK AT HIS ARMS! MY GOD!

6. The friendship bracelets he's wearing are explained. He got them from someone at the photo shoot.

7. He mentions wanting to work with Drew Barrymore and Reese Witherspoon. I could see Drew. That would work.

Oh and, he winks. *trying to breathe* He actually said the words Blue Steel, OUT LOUD and Did I make a big enough deal out of the sleeveless shirt b/c it deserves its own post...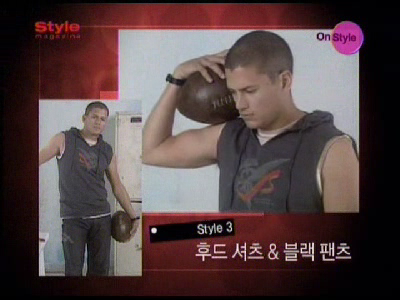 I'm going to go die now.

UPDATE: Someone youtubed it so I didn't have to! Yay!



Thanks lelucaqui!

UPDATE #2: More of the shoot in two separate clips. You will need this player to view them. Here is Clip 1 and Clip 2. *shivering* I'm all tingly...

Thanks ring2222!